FREE SHIPPING WITH ORDERS OVER 50€
DELIVERY IN 48-72 HOURS
Take care of your food with beeopak
Reduce waste and respect nature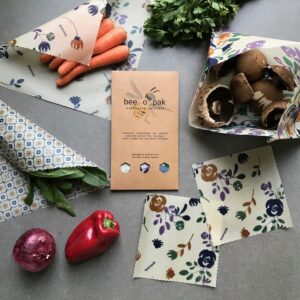 "Beeopak" is the eco-friendly food wrap made of organic cotton fabric soaked in a special 100% natural blend of organic beeswax that keeps food fresh for a long time and makes the fabric washable and reusable for more than 1 year.
An artisanal and sustainable production.
ecological – multi-purpose – practical – washable – reusable for more than a year – organic – natural – food safe
A simple solution for those who choose to take care of the environment, completely plastic and silicone free.
Beeopak works like a second skin: it protects against light, air and moisture, creating the perfect environment to keep food good and tasty for longer
Easy to use and completely plastic free
Beeopak is easily molded with the heat of your hands. The pine resin makes it adherent and adaptable to different shapes and surfaces.
I am writing from as far away as Maine (USA). My mother sent me one of your Multi Paks as a gift a couple of months ago. I had been using another brand's products for years, but I wanted to tell you that yours are far superior! They are clearly better quality, more durable and do not dry out or lose their wax coating as I have noticed happens quickly with other products. It fills me with joy and Italian pride to be able to see the difference! A heartfelt thank you from an expat always looking for new ways to have a little bit of Italy with me💚
I wanted to wait a while before leaving a review, to try out the different formats I bought and assess their functions and I must say that I am fully satisfied with my purchase, as well as covering plates and bowls, Beeopak preserves food perfectly, certainly extending its shelf life. Salads, cheeses, vegetables, bread...I've even tried using it to freeze and it's great. I think I will have to buy more. For now I've got the Family Pak and a medium pack.
Not only are they environmentally friendly, but they also preserve products much better: excellent for cheese, vegetables or to cover dishes containing food. They adapt to any shape. They are easy to wash with water and vinegar and last a long time. A wonderful discovery.
I waited to use the products a few times before doing the review, I've been using them for a month: bacon, cheese, I cover the various containers and never a smell, the sheets can be washed and come back as before, I feel great!
The second package arrived today. I am really happy with the purchase. I wrap and cover a lot of things that keep perfectly without absorbing any odor. Fantastic product that I super recommend.
I would like to thank the friends who recommended it to me. I ordered the family pack with different formats to try it out. It's really perfect for all foods, it protects from humidity in the fridge, keeps the freshness, allows you to "pack" perfectly food of different shapes ... and last but not least, it is aesthetically pleasing, colourful and pleasant to the touch. It's washable and reusable, friends who love the environment. Use it!
The delivery was fast. the product is really convenient to use and the fruit and vegetables keep longer in the fridge. it also helps to rid the environment of plastic. a small gesture that if done by everyone gives great results. i recommend it!!!
Thanks to you, I have rediscovered the pleasure of vegetables that last longer, natural yeast that doesn't dry out, and leavened dough that grows beautifully ❤️
An excellent solution, not one of those 'eco-chic' ideas that you then immediately stop using, but on the contrary: the more you use it, the more you are convinced of how useful it is! Film is now almost a memory.
Purchased in family pack now a year ago and I am so happy with the purchase, I use them all the time, especially to wrap cheese or in the summer to cover melon or watermelon open or to close containers. And after a year they work like a charm!
The bread will keep soft, as if just bought for many many days.